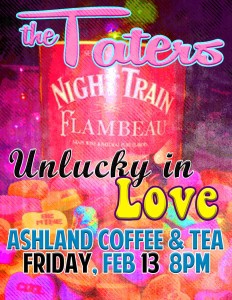 Taking an informal poll here… if you're a Tater fan (or even if you just play one on TV) and you spend time on Facebook, would you like to be added to an Invite list for live shows? Currently we post the events on FB but generally don't send out FB event invitations. I don't like to "blast" invites to just everyone on that page – some live nowhere near Virginia, or even the East Coast! – but if you think you'd like to be invited to these kinds of things, let us know by either replying to the post on our Facebook page, emailing us, or messaging us on Facebook and let us know. Basically it just means that when we create a new event, we'll send you a Facebook invitation to it.
Thanks for your help!
If you're not already on the Taters Mailing List, you can add your name to that right here! I try to send out mailings every few months, more when there is news afoot – new CDs, videos, etc.
Oh, and please share this post with your friends, especially any on Facebook that might want to know about upcoming shows, etc! Thanks!