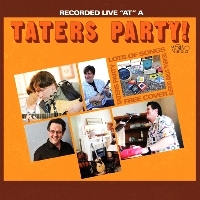 Listen to tracks from Taters PARTY! on Bandcamp
Released 2013, MolioTown Moli05
The latest album is a live acoustic project, recorded in a living room full of friends and fans, an homage to the classic Beach Boys Party. It features originals and covers of some of our favourite tunes, and we hope it's as much fun to listen to as it was to make. It definitely gives a good idea of what it's like at a live Taters show!
Recording at Castle MacBrown and WestEnd Studios, Richmond, VA
Engineered by Chris Mendez & Mike Gribik. Mixed & mastered by the master: Bill McElroy, Slipped Disc Audio, and a Tater or two.
Craig Evans – bass, vocals
Brad Tucker – guitar, vocals
Greg Marrs – guitar, vocals
Chris Mendez – percussion, vocals
Heard but not seen – Jim Wark on theteeny tambouriny; George Garrett on the Fat Smack Cajon & percussion; Gary Walker on guitar; the ghost of Unca Drew Perkins on fiddle, and a house of partygoers for background hootin' & hollarin'. Special thanks to Angel for guest vocal.
Production & arrangements: The Taters
Cover Art: Mr Molio