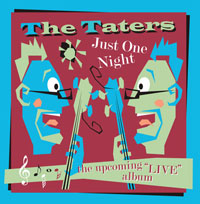 Listen to tracks from Just One Night on Bandcamp
Released ©2005 Moli03
Our first live album, recorded in, well, just one night, at a show in Ashland, VA (for real!). The album features a few new songs, several new versions of earlier tunes, and some of the most popular cover requests from our live shows, including songs from Roy Orbison, The Everly Brothers, Steve Earle, Simon & Garfunkle, and more. A consistent fan favourite!
Recording, mixing & mastering by the master: Bill McElroy, Slipped Disc Audio
Production & arrangements: The Taters
Cover Art:
The Sparking One, John Otte
This album is currently out of print on Compact Disc, but it is available as a download above!